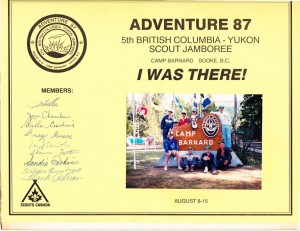 Groups active? Numbers?
1st Summerland Group
1st Summerland Beavers, Leader Marg Wilson, John Nicholson, John Mitchell, Mark Marischuk, Laurence Muir, Martin Hoffman, Jason Jones
1st Summerland Cubs, Leaders Sandy Cameron, Dave Miller, Gary Mayer, Catherine Dux, David McWhinnie
1st Summerland Scouts, Leader John Nicholson, Bob Osborne, Jim Lloyd, Kim Schroyen
1st Summerland Venturers, Advisor Terry Sabourin
Group Chair Karen Mayer
Venturer Mike Palmer attended 18th World Jamboree near Sydney, Australia
1st Penticton Group
1st Penticton Beavers, Leader Andy Cummings, Pat Cumberland, Lyle King, Andy Jacobson, Barry Coxe, Bonny Billups
1st Penticton Cubs, Leaders Wally Solski, Bill Billups, Clint Jones, Bill Pechnick, Clint Jones, Wayne Wilander, Darrel Williams
1st Penticton Scouts, Leader Robert McKenzie, Dave Mitchell, Wilf Cushnie
Group Chair Paola Cushnie
3rd Penticton Group
3rd Penticton Beavers, Leaders Tom Townrow, Joy Block, Vickie Fraleigh, Al Decker, Steve Rowe, Jurgen Ost, Lisa Dawkins, Lisa Nevin
3rd Penticton Cubs, Leaders Jim Fraleigh, Dennis Frau, Martin Van Alphen, Greg Desilets, Al Dawkins
3rd Penticton Scouts, Leader Bud Skinner, Cliff Johnstone, Randy Manuel, Greg Gascon
3rd Penticton Venturers
Group Chair Vicki Fraleigh
Group meetings at St Saviour's Anglican Church
7th Penticton Group
7th Penticton Cubs, Leaders David Shaw, Diane Anderson, Sharon Gorner
7th Penticton Scouts, Leader John Godby, Raymond Cutler, Paul Oviatt
Group Chair Wally Holt
Scout Shawn Cutler achieved Chief Scout Award
8th Penticton Group
8th Penticton Beavers, Leaders Klaus Rybak, Bernie McCallum, David Jones, Leonard Fox
8th Penticton Cubs, Leaders  Jake Friesen (Akela), Gordon Sawka, Darrell Bennett
Group Chair Dave Snyder
9th Penticton Group, 32 youth members, 6 Leaders
9th Penticton Beavers, Leaders Stewart Taylor, Barbara Spies, Greg Desilets
9th Penticton Cubs, Leaders Mindy Murray, John Sutherland, Lorraine Fitzpatrick
9th Penticton Scouts, Leaders Judy Strang, John Sutherland, Gordon Strang, Jim Stone
9th Penticton Venturers
Group Chair Sylvia Morrison
Scout Robbie Morrison achieves Pioneer Scout award
10th Penticton Group,
10th Penticton Beavers
10th Penticton Cubs, Stu Christensen, Rob Charlton, Dwight MacGillis
Group Chair Bill Waddy
1st Naramata Group,
1st Naramata Beavers reactivated, Leader Tim Forty, Barb Wilson, Guy Wilson
1st Naramata Cubs,  Akela Nello Angerelli
1st Naramata Scouts, Leader Arnie Erickson
Group Chair Tim Forty
1st Keremeos Group (South Similkameen)
1st Keremeos Beavers, Leader Wendy Lebedoff, Wendy Clipton, Anita Budd
1st Keremeos Cubs, Leader Lori Kennedy
1st Keremeos Scouts, Rosie Holmes Scoutmaster?
Group Chair Kathy Harker (or Ian Walters)
1st Princeton Group
1st Princeton Beavers, Leaders Eric Gregson, Rick Johnson, Cheryl Johnson, Shannon Foster
1st Princeton Cubs, Leaders Bob Westran, Bill Aspinall, Al Foster, Lynn Smith, Dave Logan, Doug Reid
1st Princeton Scouts, Leader Greg Abbott
Group Chair Ron Metcalfe
1st Okanagan Falls Group
1st Okanagan Falls Beavers, Alice Atkins Rainbow, Doug Atkins, Jack Mercer, Linda Mercer
1st Okanagan Falls Cubs, Leader Dave Pinchbeck, Doug Atkins, Howard Richardson
1st Okanagan Falls Scouts, Leaders Ken Martin
Group Chair Jo Ann Nield
1st Oliver Group
1st Oliver Beavers, Leaders Bryan Beaton, Harvey McKay, Karen Thomas, Dave Smith
1st Oliver Cubs, Stephen Pyke, Richard O'Leary, Roy Scott, Joanna Plante, Steve Lydiatt, John Dimma, Cheryl Reid
1st Oliver Scouts, Leader Roland Woodward, Ben Lambert, Doug Treadwell, Bob Johnson, Wayne Radies, Bill Ford, Gerry Plante
Group Chair Andy Novak
1st Osoyoos Group
1st Osoyoos Beavers, Leader Cindy Stilwell
1st Osoyoos Cubs, Leaders Howie Hebig, Vern Stephens
1st Osoyoos Scouts, Leader Chris Stevens
Group Chair Sue McKortoff
South Okanagan Rover Crew, Al Dawkins Advisor
Edward C Clark awarded Medal for Good Service and a 10 year service pin.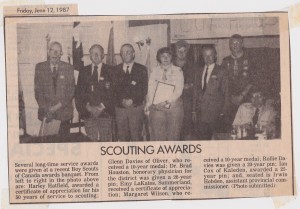 Harley Hatfield awarded a Certificate of Appreciation for his 50 years of service to Scouting (Penticton Herald June 12, 1987)
Glen Davies (Oliver) awarded 10-yr Service Medal
Randy Manuel awarded 10 year service pin.
Terry Sabourin awarded 10 year service pin.
Brad Houston awarded 20 year service pin
Emy Lakatos (Summerland) awarded Certificate of Appreciation
5 year service pins awarded to Robert McKenzie (1st), Bud Skinner and Cliff Johnstone (3rd), Doug Anderson, Paul Oviatt and Sharon Gorner of 7th, Gordon Strang (9th), Clint Jones (1st), Kathy Dux of Summerland, Bill Ford, Robert Johnson and Wayne Radies of Oliver, Tim Forty of Naramata, Chis Stevens of Osoyoos, Bob Westran of Princeton.
Bill Sparks awarded 20 year service pin
Edgar Dewdney awarded 40 year service pin, for 11 years as a unifirmed Leader, and 29 years on District Council
Margaret Wilson (Summerland) awarded 10 year Service Medal
Rollie Davies awarded 20 year service pin
Ian Cox (Kaleden) awarded 25 year service pin
Richard Tallon awarded 20 year service pin
Bob Osborne receives Silver Acorn award
District Commissioner Phil Williams
ADC Scouts Randy Manuel, Dave Morgenstern, Gordon Strang
ADC Cubs Jim Stone, Emy Lakatos
ADC Beavers Joy Block, Alice Atkins
ADC Training Ian Cox
ADC Venturers Jack Sworder
ADC Rovers Jack Sworder
ARC Cubs and Rovers Al Dawkins
APC Scouts Irwin Hobden
Regional Commissioner Lloyd Higgs
District Chair Michael Meheriuk
Note: 16th World Jamboree was held near Sydney, Australia, from December 30, 1987 to January 7, 1988. 14, 434 youths attended from 84 countries. Venturer Mike Palmer attended from Summerland.