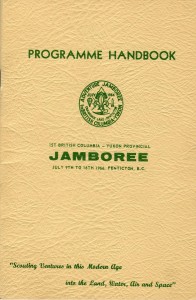 Special Events: B.C. Yukon Jamboree on West Bench of Penticton, July 9 to 16
Groups, numbers, Leaders are from November 1966 District records

1st Summerland Group
1st Summerland Cubs, E. Sandback Cubmaster, ACM Mrs E Sandbach, ACM Mrs D Rolston, ACM Mrs R Bertram  (38 Cubs)
1st Summerland Scouts, Don Fisher Scoutmaster, T.P. Decie Scoutmaster, ASM D. Spalding, ASM W. Wilson, ASM H. Wiens   (21 Scouts)
Group Chair N. Abernethy
Sponsored by Branch 22, Royal Canadian Legion
Met at Summerland Youth Centre
Scouts Howard Lloyd Wiens and Allen Heinrichs achieved Queen Scout status
Scouts Howard Wiens, Gary Davis and Nigel Blagborne attended B.C. Yukon Jamboree in Penticton, B.C.
2nd Summerland Group (1st Trout Creek)
2nd Summerland Cubs, Dr J.M. McArthur Akela, ACM Hugh Ballantyne (10 Cubs)
Sponsored by United Church
Met at Trout Creek School
1st Penticton Group
1st Penticton Cubs, Mrs C.E. Cross Akela, ACM Mrs N Menzies, ACM Mrs J Wells, ACM Mrs H Cuming (23 Cubs)
1st Penticton Scouts, Jack Stocks Scoutmaster, ASM A.D MacDonald (32 Scouts)
Group Chair W.S. McPherson
Met at Scout Hall
Scout Ken MacDonald achieves Queen's Scout status
2nd Penticton Group
2nd Penticton Cubs, Michael Benson Akela, ACM Dr J M Wilks, ACM Allan Swain, ACM Catherine Budd (32 Cubs)
2nd Penticton Scouts, Jim Lamb Scoutmaster, ASM Norman Kelford, 2 active Patrols (Wolf and Eagle) (15 Scouts)
2nd Penticton Venturers, Robert Laycock Advisor, Asst Jim McAndrew (6 Venturers)
Group Chair Dr F.E. Moore
Group sponsored by United Commercial Travellers.
Group met at Carmi School and O'Connell School
3rd Penticton Group
3rd Penticton Cubs, Jack Sworder Akela, ACM Cecil Holmes, ACM Muriel Ferley, ACM Joyce Stapleton, ACM Margaret Sheldon (31 Cubs)
3rd Penticton Scouts, Bruce Roald Scoutmaster, ASM Robert Gougeon, ASM David Mabell (27 Scouts)
Group Chair Gordon Harris
Sponsored by Anglican Church
Met at St Saviour's Parish Hall
Venturer Rick Chernoff achieves Queen's Scout status
4th Penticton Group
4th Penticton Cubs, Joanna Winkelaar Akela, ACM Rosemary Bolton (12 Cubs)
4th Penticton Scouts, Walter Curts Scoutmaster, ASM Danny Lybarger (5 Scouts)
Group Chair A.H. Stokker
Met at St. Joseph School basement
5th Penticton Group
5th Penticton Cubs, G. Chapman Akela, ACM Miss M Perley (20 Cubs)
Group Chair Dr T. Hawthorne
Met at Moose Hall
6th Penticton Group
6th Penticton Cubs, Bill Bissett Akela, ACM J. Jones, ACM E. Gardiner, ACM G. Beaton ((25 Cubs)
Group Chair Donald Lindsay
Met at United Church Hall
8th Penticton Group
8th Penticton Cubs, D.S. Gray Akela, ACM Mrs R. Millington, ACM Mrs V. Oliver, ACM Mrs R. Hannah, ACM Mrs P. McIntosh, ACM N. Anderson (24 Cubs)
8th Penticton Scouts, Ben May Scoutmaster, ASM Fred Gardiner, ASM Doug Cole (18 Scouts)
8th Penticton Venturers, Ben May Advisor, Asst Hugh Tayler ((4 Venturers)
Group Chair Bjorn Bjornson
Met at Canadian Legion
9th Penticton Group
9th Penticton Cubs, Joan Grimsdick Akela, ACM Phyllis Fix, ACM Michael Ellis, ACM Dale Sampson (22 Cubs)
9th Penticton Scouts, Jim Laidlaw Scoutmaster, ASM P.L. Delisle, ASM D.J. Mabell (19 Scouts)
Group Chair Leo McCrea
Sponsored by United Church
Met at United Church Hall
1st West Bench Group
1st West Bench Cubs, Norman Robertson Akela, ACM Mrs R. Cranna, ACM Allen Moore ((30 Cubs)
1st West Bench Scouts, Doug Leake Scoutmaster, ASM Phillip Brock, ASM Allan Ferguson (24 Scouts)
Group Chair Jack Kincaid
Met at West Bench School
1st N'Haaitk Group
1st N'Haaitk Cubs, Marge Needles Akela, ACM Olga Perret (13 Cubs)
Group Chair Mrs L. Gabriel
Met at Community Hall, Indian Reserve
1st Naramata Group
1st Naramata Cubs, Mrs Del Parker Akela, ACM Mrs Jean Smith, ACM Mrs Bev Grant (26 Cubs)
1st Naramata Scouts, Jake Van Westen Scoutmaster, ASM Jack Damen (10 Scouts)
Group Chair Bill Godber
Met at Naramata School
1st Kaleden Group
1st Kaleden Cubs, R.G. McKeever Akela (12 Cubs)
Group Chair Len Swales
Met at Kaleden Community Hall
1st Keremeos Group
1st Keremeos Cubs, Robert Fitzpatrick Akela, ACM Mrs Jean Fitzpatrick, ACM Gordon Christenson (29 Cubs)
Group Chair Fred Crooker
Met at Canadian Legion
1st Cawston Group
1st Cawston Cubs, Otto Klettke Akela, ACM Mrs McNeil, ACM Lawrence Johnson (20 Cubs)
Group Chair E. Hendsbee
Met at Cawston Elementary School
1st Okanagan Falls Group
First Okanagan Falls Scouts, Robert Hall Scoutmaster
Group Committee Audrey Steeves
1st Oliver Group
1st Oliver Cubs
2nd Oliver Group
No Cub Pack (lack of Leaders?), merged with 1st Oliver Cubs
2nd Oliver Scouts, Danny Roberts Scoutmaster, John Barnay ASM
3rd Oliver Group
3rd Oliver Cubs, Bill Leverett ACM
Group Chair George Risling
1st Osoyoos Group
1st Osoyoos Cubs, Frank Brownlee Akela, ACM John Kowatch, ACM Dwayne Svendsen
1st Osoyoos Scouts, Joe Usher Scoutmaster
Group Chair Bob Wismer
Other Scouts who achieved Queen's Scout status (groups unkown at this time): Ian Hunt, Floyd Smith, Hugh Tayler, Jim Thom and Ralph Trumpour
District Commissioner Bob Winter (South OK)
District Commissioner Ron Amos (Kobau)
ADC Scouts Irwin Hobden (OK South)
ADC Cubs Jack Sworder (OK South)
District Cubmaster Mary Lamb (OK South)
District Scoutmaster Gordon Blewett (OK South)
District Scoutmaster Gwyn Russell (OK South)
ADC Training H. McRae (OK South)
District Cubmaster Harvey Skelton (Kobau)
Regional Commissioner Don Weatherill
ARC Bill Bissett
District President Bjorn Bjornson (OK South)
Scouter Gordon Blewett awarded 25 year pin.
Scouters John Gludovatz (Oliver), Therese Rolston (Summerland), Edward Sandbach (Summerland), Frank Brownlee (Osoyoos) attended Gilwell training. (logbook in Oliver Museum and Archives)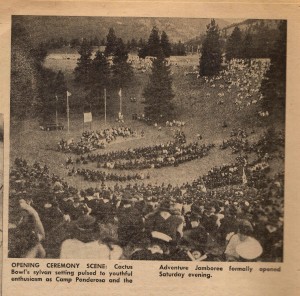 From Penticton Herald