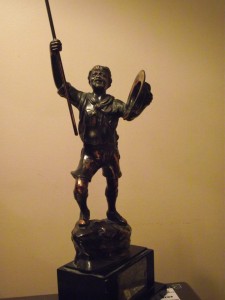 Dr. Harold McLarty for distinguished service to the Interior Region and the South Okanagan District, Boy Scouts of Canada 1935-1965
Groups active? Numbers?
1st Summerland Group
1st Summerland Cubs, E. Sandback Cubmaster (30 Cubs)
1st Summerland Scouts, Don Fisher Scoutmaster  (21 Scouts)
Group Chair N. Abernethy
Sponsored by Branch 22, Royal Canadian Legion
Scouts Francis Andrew Fenwick, Michael Inch, Allan Heinrichs, Allan Wiens and Gordon Harvey Lackey achieved Queen Scout status
2nd Summerland Group
2nd Summerland Cubs, Hugh Ballantyne Akela Ballantyne served as a section leader until 1979 when merged with 1st Summerland)
2nd Summerland Scouts
Sponsored by United Church
1st Trout Creek Group
1st Trout Creek Cubs
1st Trout Creek Scouts
1st Naramata Group
1st Naramata Cubs, Mrs Ted Smith Akela, ACM Mrs Ted Parker (Baloo), Mrs David Grant (Bagheera)
1st Naramata Scouts, SM Jake van Westen, ASM ASM Percy Hancock, ASM Fred Parkinson
Group Chair William Godber
1st Penticton Group
1st Penticton Scouts, Jack Stocks Scoutmaster?
Scouts Mike Sloan and Jim Bolton achieved Queen's Scout status
2nd Penticton Group
2nd Penticton Cubs, Mrs James McIntosh Akela
2nd Penticton Scouts/Venturers, Wes Wensley Scoutmaster. 2 active Patrols (Wolf and Eagle)
Group sponsored by United Commercial Travellers.
Group met at St Andrews Presbyterian Church
Scouts Gerry Lamb and Wayne Carlaw achieved Queen's Scout status
2nd Penticton Scouts, Wolf Patrol
3rd Penticton Group
3rd Penticton Cubs, Jack Sworder Akela
3rd Penticton Scouts, Scoutmaster Bruce Roald
Sponsored by Anglican Church
Scout Philip Edwards achieved Queen's Scout status
4th Penticton Group
4th Penticton Scouts, Scoutmaster
6th Penticton Group
6th Penticton Cubs, Donald Bissett Akela, Jim Jones ACM
6th Penticton Scouts
Scouts Colin Leigh and Rob Cannings achieved Queen's Scout status
9th Penticton Group
9th Penticton Cubs, Joan Grimsdick Akela, ACM Ron Van Dusen, ACM Bill van der Meer, ACM Phyllis Fix
9th Penticton Scouts, Jim Laidlaw Scoutmaster, Pat deLisle ASM, Dave Mabel ASM
Scouts Colin Leigh and Rob Cannings achieved Queen's Scout status
Group Chair Jim Laidlaw
Sponsored by United Church
1st West Bench Group
1st West Bench Cubs
1st Keremeos Group
1st Keremeos Cubs, Akela Mrs Jean Fitzpatrick
1st Cawston Group
1st Cawston Cubs, Akela Mrs Joan McNeil
1st Okanagan Falls Group
1st Okanagan Falls Cubs, Mel Cook Akela, William O'Reilly ACM
First Okanagan Falls Scouts, Robert Hall Scoutmaster, Allie Merchant ASM
Group Chair John Derton
Group Committee Audrey Steeves
1st Oliver Group
Group Chair Ted Galbraith
2nd Oliver Group
2nd Oliver Cubs, Mel Shannon Akela, Gemmill ACM
2nd Oliver Scouts, Gary Cotnoir Scoutmaster (Cotnoir resigns Jan/66, replaced by Carleton MacNaughton)
R E Fleming Group Chair
3rd Oliver Group
Urbain Gobeil Group Chair
1st Osoyoos Group
1st Osoyoos Cubs, Harry Jones Akela, ACM Jack Foday, ACM Frank Brownlee
1st Osoyoos Scouts, Scoutmaster A.N. Brownjohn
Group Chair Harry Jones
District Commissioner R.C. (Bob) Winter (South OK)
District Commissioner Harold King (Kobau)
Ron Amos Assistant District Commisioner (Kobau)
ADC Irwin Hobden
District Cubmaster Mary Lamb
District Scoutmaster Gordon Blewitt
District Scoutmaster Harvey Walker
District Council President John Carew-Gibson
District Chair Carleton MacNaughton (Kobau)
District Cubmaster John Gludovatz (Kobau)
Regional Commissioner Don Weatherill
Regional President H.B. Earle
William R. Fulton awarded Certificate of Merit. Purpose of award? Groups involved?
Dr. H.R. McLarty awarded Silver Acorn. Purpose of award? Groups involved?