Groups active? Numbers?
1st Summerland Group
1st Summerland Cubs, Isabel McCargar Cubmaster
1st Summerland Scouts, D.M. Munn Scoutmaster
Group Chair Dr. D.L. McIntosh
Sponsored by Branch 22, Royal Canadian Legion
2nd Summerland Group
2nd Summerland Cubs
2nd Summerland Scouts restarted mid season, Doug Campbell SM
Jack Wilson Group Chair
Sponsored by United Church
1st Penticton Group
1st Penticton Cubs, Mrs Conley Akela
1st Penticton Scouts, Jack Stocks Scoutmaster, Ron Bradshaw ASM
1st Penticton Rovers, Harley Hatfield Advisor
Jim Laidlaw Group Chair
2nd Penticton Group
2nd Penticton Scouts, Harvie Walker Scoutmaster, ASM Ron Jensen (leaving at end of season)
2nd Penticton Rovers
F G Abbott Group Chair
Scout Ron Lawson achieved Queen's Scout status
3rd Penticton Group
3rd Penticton Cubs, Leaders Mrs Cummins, Mrs Rowe
3rd Penticton Scouts
Mr L Bartlett Group Chair
Sponsored by Anglican Church
5th Penticton Group
5th Penticton Scouts
Doug Barnes Group Chair
1st Naramata Group
1st Naramata Cubs, Don Nourse Akela
1st Naramata Scouts started mid season, Mr Tennant SM?
1st Hedley Group
1st Hedley Scouts, Fred Brent Scoutmaster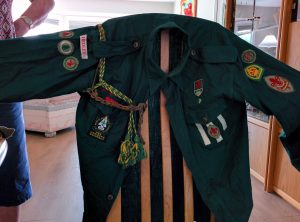 Jim Cade's uniform, 1954 or 1955. Notice that he is now a Troop Leader (3 ribbons on left pocket).
1st Oliver Group
1st Oliver Scouts, Cyril Overton Scoutmaster, Robert Hall ASM
Scout Bob Hayter achieves Queen's Scout status
1st Osoyoos Group
1st Osoyoos Cubs, Geoffrey King Akela
1st Osoyoos Scouts, Harold King Scoutmaster, Y Harwood ASM
Scouts Michael Mepham, George Sutton and John Plena achieve Queen's Scout status
District President R F Raikes (OK South)
District Commissioner Jim Mitchell (Kubau Dist)
District Commissioner Doug Southworth (OK South)
DCM Isobel McCargar (OK South)
DSM Gordon Blewitt (OK South)
Carleton McNaughton District Scoutmaster (Kubau)