Groups active? Numbers?
1st Summerland Group
1st Summerland Cubs, Isabel McCargar Cubmaster, Dr J M McArthur ACM, Mrs J M McArthur ACM, Mr McCargar ACM
1st Summerland Scouts, D.M. Munn Scoutmaster, replaced by Don Fisher late season
Group Chair Dr. Dave.L. McIntosh
Sponsored by Branch 22, Royal Canadian Legion
2nd Summerland Group
2nd Summerland Cubs
2nd Summerland Scouts
George Washington Group Chair
Sponsored by United Church
1st Penticton Group
1st Penticton Cubs, Mrs Scrivener Akela, Mrs Daphne Hooper ACM
1st Penticton Scouts, Jack Stocks Scoutmaster
1st Penticton Rovers, Harley Hatfield Advusor
Jim Laidlaw Group Chair
2nd Penticton Group
2nd Penticton Cubs, J D Chalmers Cubmaster
2nd Penticton Scouts, David Henderson new ASM, Harvie Walker ASM
G Abbott Group Chair
New Group neckerchief adopted, Royal Stuart tartan
3rd Penticton Group
3rd Penticton Cubs, Mrs Maurice Bird Akela, Walter Dixon ACM
3rd Penticton Scouts
Mr L Bartlett Group Chair
Sponsored by Anglican Church
5th Penticton Group
5th Penticton Cubs, Mrs Audrey Stockford CM, John Gordon
5th Penticton Scouts, DSM Don Fisher assisting, Steve Stogre Scoutmaster, Allan Brown ASM
Doug Barnes Group Chair
Awarded new Charter
1st Naramata Group reactivated mid season
1st Naramata Cubs
1st Kaleden Group
1st Kaleden Cubs
Mr N Ashe Group Chair
1st Hedley Group
1st Hedley Scouts, Fred Brent Scoutmaster
Scout Jim Cade achieves Queen's Scout status.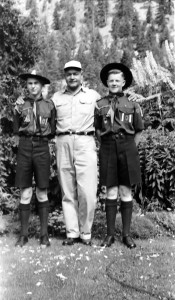 Scouts Jim Cade and Danny Collins preparing to depart for 2nd Canadian Scout Jamboree in Connaught Ranges, Ottawa, Ontario. Pictured with Scoutmaster Fred Brent. Photo courtesy Hedley Museum and Archives .
1st Oliver Group
1st Oliver Scouts, Robert Hall ASM
1st Osoyoos Group
1st Osoyoos Cubs, Geoffrey King Akela, Mrs M. Compance (?) ACM, Mrs. Marchand ACM, Mrs Albrecht ACM
1st Osoyoos Scouts, Harold King Scoutmaster
District Commissioner Jim Mitchell (Kubau)
District Commissioner Doug Southworth (OK South)
Harley Hatfield Rover Advisor
Don Fisher DSM i/c Training (OK South)
Gordon Blewitt DSM i/c Camps (OK South)
Isobel McCargar DCM
Dr H R McLarty President, succeeded by H H Boyle mid-term
James H. Mitchell awarded Medal of Merit.
Note: 2nd Canadian Jamboree was held in Connaught Ranges, Ottawa, Ontario, in July 1953. 1196 Scouts attended, including Jim Cade and Danny Collins from 1st Hedley.