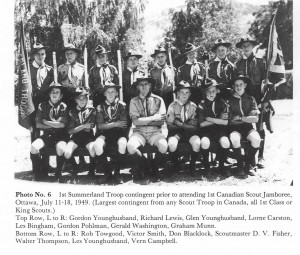 From the Okanagan Historical Society 50th Annual Report, article written by Dr. D.V. Fisher
9 Groups in South Ok District, with 8 Cub Packs and 7 Scout Troops
1st Summerland Group
1st Summerland Cubs, J.F. Bowen Cubmaster (Pack folded briefly around this time)
1st Summerland Scouts, Don Fisher Scoutmaster, J.E. Miltimore ASM, R. Walsh ASM (39 Scouts)
Group Chair Dr. H.R. McLarty
Sponsored by Branch 22, Royal Canadian Legion
Scouts Gordon Younghusband, Glen Younghusband, Rob Towgood, Don Blacklock, Les Bingham, Victor Smith, Vernon Campbell, George Pohlmann, Lorne Carston and Graham Munn achieved King Scout status
Scouts attended Canadian Scout Jamboree in Connaught Range, Ottawa.  Leslie Bingham, Donald Blacklock, Vernon Campbell, Lorne Carston, Graham Munn, Richard Lewis, Alfred Pohlmann, Victor Smith, Gerry Washington, Glen Younghusband, Gordon Younghusband, Leslie Younghusband, Walter Thompson, Robert Towgood

2nd Summerland Group
2nd Summerland Cubs, Rev H.R. Whitmore Akela, Walter Bleasdale ACM (55 Cubs registered)
2nd Summerland Scouts, Rev H.R. Whitmore Scoutmaster, Walter Charles ASM started new Troop
Sponsored by United Church
1st Penticton Group
1st Penticton Cubs, Mrs Naish Akela
1st Penticton Scouts, Jack Stocks Scoutmaster, Don Vass ASM, ASM McNeil
Scouts attending 1st Canadian Jamboree in Connaught Ranges: John Hatfield, Sholto Hebenton, Hugh Johnston, Leslie Parmley, Harvie Walker, James Tidball
Jack Stocks attended 1st Canadian Jamboree as Scoutmaster of Troop No 10, Division 3
2nd Penticton Group
2nd Penticton Scouts
Scout Jim Coe attends 1st Canadian Jamboree
3rd Penticton Group
3rd Penticton Cubs
3rd Penticton Scouts, Stan Good Scoutmaster
Sponsored by Anglican Church
Scout Graham Palmer attends 1st Canadian Jamboree
Knights of Columbus Group
KoC Cubs
KoC Scouts
Oddfellows Group
Oddfellows Cubs
Oddfellows Scouts
1st Naramata Group
1st Naramata Scouts
Scout Howard Luxton attends 1st Canadian Jamboree
1st Kaleden Group
1st Kaleden Scouts
Scout Gordon Garlinge attends 1st Canadian Jamboree
1st Oliver Group
1st Oliver Cubs, William Kreller Akela
1st Oliver Scouts, Cyril Overton Scoutmaster, Carleton McNaughton ASM
Scouts Fred Collins, Ordie Jones and John Boone attend 1st Canadian Scout Jamboree in Ottawa
1st Osoyoos Group
1st Osoyoos Cubs
1st Osoyoos Scouts, Harold King Scoutmaster
Scout Terry Schorn attends 1st Canadian Scout Jamboree in Ottawa.
1st Hedley Scout Troop, Fred Brent Scoutmaster
District President Hugh Cleland
District Commissioner Harley Hatfield (South Okanagan)
District Scoutmaster F. Alington (South Okanagan)
District Scoutmaster Gordon Blewitt (South OK)
District Cubmaster Margaret Tidball (South OK)

The 1st Canadian Jamboree was held in Connaught Ranges near Ottawa, Ontario, in July 1949. Scouts from Oliver, Osoyoos Naramata, Kaleden and Summerland attended. They were part of what was known as Troop 10, Division 3.