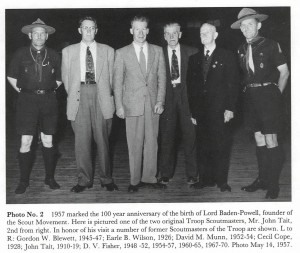 With thanks to Okanagan Historical Society and Don Fisher, this 1957 photo shows the second Troopleader of 1st Summerland Scouts, John Tait
1st Summerland Group
1st Summerland Scouts, Cliff Borton Scoutmaster
1st Penticton Group
Penticton Corps of Baden Powell's Boy Scouts, Harry Pitman Scoutmaster, Rev Ferguson Miller ASM
Boundary Country: early newspaper articles identify a Troop in Greenwood. Their audited financial statements were in the Phoenix Ledge, and dated June 10, 1910. So, when did they start? They were known as the Greenwood corp of "Baden-Powell Boy Scouts", and in early 1910 had obtained permission from the Premier, McBride, to call themselves "The Premier's Own Baden-Powell Boy Scouts". R.G.Hargreaves was the Scoutmaster in 1910. Group was still in existence in 1915.